MARS Recommendations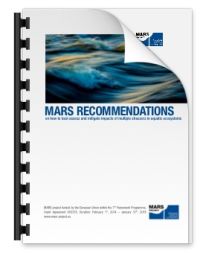 The MARS Recommendations document provides information and highlights relevant outcomes of the MARS project aiming to inform River Basin Managers and stakeholders in other sectors (energy, water industry, agriculture) on how to best assess and mitigate impacts of multiple stressors acting on Europe's aquatic ecosystems. This document aims at supporting those who implement the EU Water Framework Directive (WFD) and who have to make recommendations or take decisions based on existing monitoring data.
MARS mainly addressed pressures regarding hydromorphology, nutrients and climate change, while the focus of this document is on the most common and typical stressor combinations of European waters. The FP7 "sister projects" SOLUTIONS and GLOBAQUA specically addressed multi-stressor issues related to toxic contamination and water scarcity.
For convenience and better readability, the document uses hyperlinks to relevant MARS results, models and tools to enable readers to directly access the respective websites. Of course, all results of MARS can be accessed directly from the results section of this website and additionally from the Freshwater Information Platform.